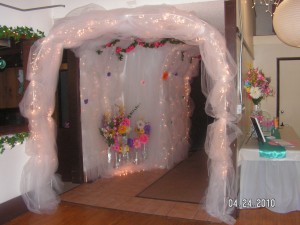 If you are planning your wedding reception, birthday party, anniversary, banquet, or an event of any kind we are here to help you. Staying on a budget can be difficult nowadays, but Morrill Hall can help you. We offer many unique catering opportunities for your next event.
Catering
Here is a list of local caterers that will help you with all of your catering needs:
Bakery
You are welcome to choose from our list of bakeries here:
Decorating
If you don't have time or the resources to decorate:
Florists
Adding flowers to your wedding reception or anniversary party:
We also offer you the option to bring in your food and cook it in our fully equipped kitchen.
You can then set-up a buffet style or hire people to serve the food for you.
Bartenders & Liquor
Since Morrill Hall has a 3.2 liquor license, this allows you to bring in your hard liquor.
You can then hire us to bartend for you, for one flat fee, otherwise ask family or friends to
bartend for you.
Photographers
Having a photographer to remember your special occasion:
Entertainment
Having music at your reception: